Alessandro Crossbred Series
Overview
Alessandro's Crossbred series of amps are hand-built, boutique-quality amps at affordable prices. The logical evolution from George's "Working Dog" line, these are a lot of amp for the money, and are impressive in every aspect.
The Crossbred Mutt is an extremely straight-up amp, built as a robust and uncompromising platform, with the aim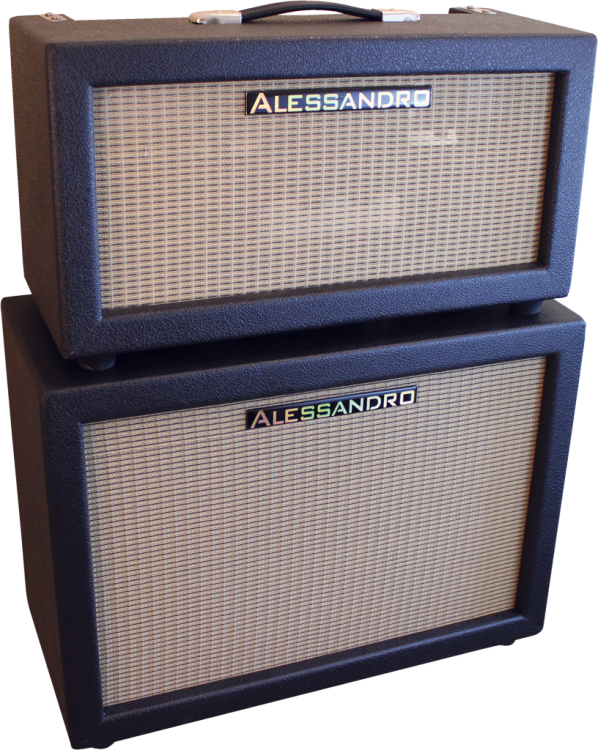 of sounding great at any setting – and requiring little-to-no fuss to get there.
Says George Alessandro: "The Crossbred series is entirely my own design, but sonically inspired and designed to fill the needs of vintage blackface and tweed Fenders, Marshalls and Voxes – and also Trainwrecks, which are basically Vox and Marshall again. It was to be a grab-and-go, versatile amp for working musicians, but ended up exceeding my expectations."
The controls are simple: volume, reverb, treble, middle, bass and final output power (a voltage-reduction control rather than master volume), and there's a jangly/creamy switch to re-voice it all at the front end. Approximately 40 watts of power comes from a pair of 6L6/5881 tubes in fixed-bias Class AB1, while two 12AX7s and one 12AT7 drive the preamp, reverb and phase inverter. Rectification comes from solid-state diodes.
Alessandro Crossbred Mutt
Controls – Volume, reverb, treble, middle, bass, final output power (5%-100% power); creamy/jangly switch; standby switch; on-off switch
Output – 40 watts
Tubes – 2x 12AX7s, 1x 12AT7, 2x 6L6/5881; solid-state rectification
Features – Dual speaker outs with switch for 4/8/16 ohms
Speaker Cab – Open-back 1×12" cabinet with Alessandro-designed AHEP Neo speaker, manufactured by Eminence)
Price (Manufacturer Direct)

Combo 1×12 AHEP Neo speaker – $2800 U.S. (32 lbs)
Head – $2,400 U.S. (28 lbs)
Speaker Cab Open-back 1×12 cabinet with AHEP Neo speaker – $850 U.S.
Check out the review in Guitar and Bass Magazine.
Save
Save
Save
Save
Save
Save
Save
Save
Save
Save
Save
Save
Save
Save
Save
Save
Save
Save
Save
Save
Save
Save
Save
Save