When Bad Things Happen to Good Drivers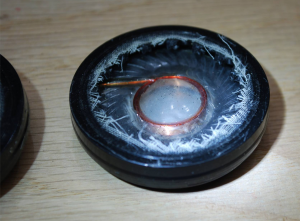 We have these MS Pro headphones in for service, because they were fried by a headphone amp. Customer was honest and forthcoming about the fact that a headphone amp damaged these. There must have been either way too much output into them or the amp was passing DC. He said it happened as soon as he plugged them in and I believe it. The image shows the inside diaphragm "cone" and there is a copper voice coil ring in the center. The voice coil is supposed to sit inside the magnet gap, but in this case was blown out of there so far and forcefully, that it warped the cone and was dislodged permanently. This is not a subtle "It was a little too much for the drivers.", this was WAY too much.
We see this all too often. I do not understand how there are products out there, that are so poorly designed, that they cause catastrophic failure to the things they are supposed to operate with. Luckily our headphones are serviceable, otherwise this would have been a $700 piece of rubbish.
https://alessandro-products.com/wp-content/uploads/2016/05/drivers.png
906
1232
Dave Orban
https://alessandro-products.com/wp-content/uploads/2016/05/alessandro_header_logo-300x138.png
Dave Orban
2016-05-02 12:15:29
2017-05-23 17:57:37
When Bad Things Happen to Good Drivers